Mount Kerinci (also spelled "Kerintji", and is known as Mount Gedang, Kurinci Volcano, Kerinchi, Korinci, or Indrapura Peak) is the highest mountain on Sumatra, the highest volcano in Indonesia, and the highest peak in Indonesia outside Papua. Mount Kerinci is located in Jambi Province, in the Bukit Barisan Mountains, near the west coast, and is located about 130 km south of Padang, West Sumatra Province. The mountain is surrounded by dense forest of Kerinci Seblat National Park and is a habitat for Sumatran tigers and Sumatran rhinos.
Get the basic material of mountaineering & survival provided by special experts in related fields and learn the principle of minimal waste journey while you're doing activities at Kerinci with Sebumi Mendaki trip.
Pre Departure - Basic Mountaineering & Zero Waste Journey
Learn about basic mountaineering from the experts and all the things you need prepare and anticipate during the hike in Mount Kerinci. Including understanding of Zero Waste Journey principles and practical application.

---
Day 1 : Biodiversity Knowledge & Local Culture Understanding
The first day, we will start the journey through the forest on Mount Kerinci. We will be introduced to the beauty of nature, the biodiversity in this place, and the culture of the people around Mount Kerinci.
---
Day 2 : Basic Navigation & Geological History of Mount Kerinci
Learn and got a comprehensive knowledge about basic navigation and learn deeper about the history and geological features of Mount Kerinci.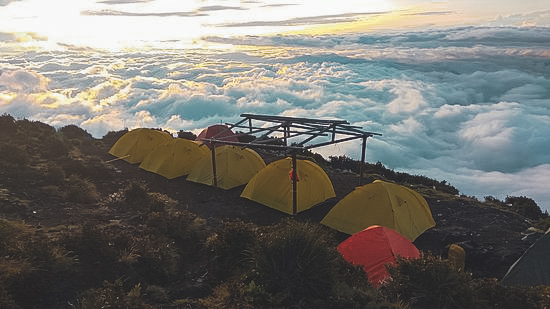 ---
Day 3 : Basic Survival Practice & Hike to the Peak
Kerinci mountain peak called the peak of Indrapura, located at an altitude of 3,805 meters above sea level, there we can find a crater that is still actively emitting sulfur gas and a very amazing view, in the form of the expanse of the city of Padang, Bengkulu and Jambi, a line of other mountains and stretches of the Indian Ocean which very amazing.
---
Day 4 : Enjoy Kaco Lake
On the last day, we will enjoy Lake Kaco. Danau Kaco or Mirror Lake. This unique lake is located in the middle of the Kerinci Seblat National Park, Kerinci District with blue water color that contrasts with the green foliage of trees around it. Feel the calm atmosphere that will perfect your trip.